Minnesota – The Land of 10,000 Lakes. While it's renowned for its beautiful landscapes, crisp lakes, and bustling Twin Cities, it's also home to some of the most delightful ice cream parlors in the Midwest. 
It doesn't matter if you're a Minnesota native or a visitor looking to satisfy your sweet tooth; you're in for a treat. Below, we discuss ten Minnesota ice cream shops that deserve a spot on your travel itinerary. Let's begin!
1. Sebastian Joe's – Minneapolis

Located in the heart of the city, Sebastian Joe's has been churning out gourmet ice cream for decades. Their flavors, often crafted with fresh, local ingredients, range from classic to unconventional.
Founded in the 1980s, this family-run establishment places quality above everything else. Their batches are made daily, ensuring that each scoop is as fresh as possible. Additionally, with flavors like Nicollet Avenue Pothole (rich chocolate with caramel, truffles, sea salt, and Heath bar pieces) or Raspberry Chocolate Chip, your palate is in for a delightful surprise. 
What's more? Their cozy ambiance, with rustic interiors, provides the perfect setting to enjoy these frozen delights.
2. Grand Ole Creamery – St. Paul
View this post on Instagram

Established in 1984, Grand Ole Creamery boasts the title of the first ice cream parlor in St. Paul to serve premium hand-crafted ice cream.
Their range of over 200 flavors ensures there's something for everyone. The sweet cream flavor, in particular, has earned them fame far and wide. A blend of Madagascar and Tahitian vanilla, it's a rich treat that's hard to resist. 
And if you're looking for a bite to eat, their hand-tossed pizzas are equally mouth-watering, making it a perfect pitstop for a complete meal.
3. Pumphouse Creamery – Minneapolis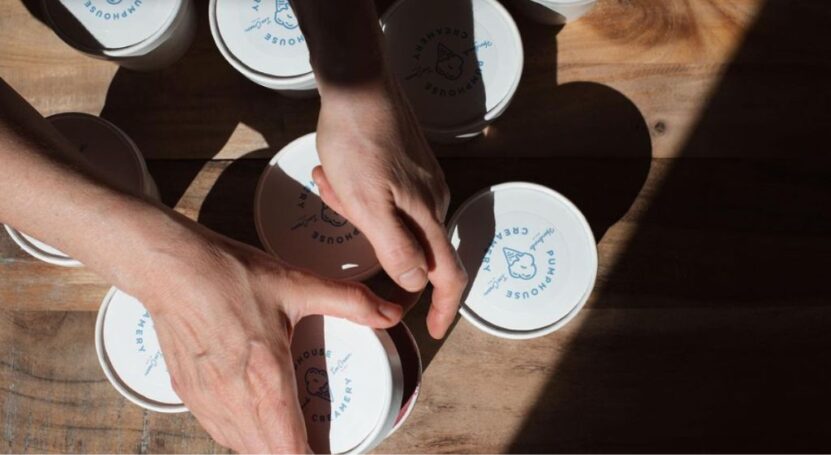 Pumphouse Creamery is a gem for those who appreciate organic, all-natural ingredients in their desserts.
Harnessing the goodness of local produce, their flavors are robust and genuine. From the classic vanilla bean made with organic bourbon to the unique blueberry wild with real Minnesota blueberries, every scoop is an experience. 
Their eco-friendly approach, coupled with their use of compostable materials, reflects their commitment to both taste and the environment.
4. Milkjam Creamery – Minneapolis

Modern, edgy, and daring—Milkjam Creamery is a haven for adventurous ice cream lovers.
Their flavors are far from typical. With offerings like "Ridin' Duuurty" (Oreo milk with Oreo chunks and salted peanut butter) or "Black" (a flavor that's as dark as its name suggests), they're always pushing boundaries. 
Plus, they have an array of vegan options, ensuring that everyone, regardless of dietary restrictions, gets a taste of their innovative concoctions.
5. Nelson's Ice Cream – St. Paul & Stillwater
View this post on Instagram

If you're looking for generous portions, Nelson's is the place to be. Known for their "child size" scoops that are larger than most regular portions elsewhere, they promise value for every penny.
But it's not just the size that draws crowds. Their flavors, from classics like strawberry and mint chocolate chip to unique offerings like "Lumberjack Toast," are consistently creamy and delightful. 
With its vintage charm and family-friendly atmosphere, it's a place that evokes nostalgia while delivering on taste.
6. Sonny's Ice Cream – Minneapolis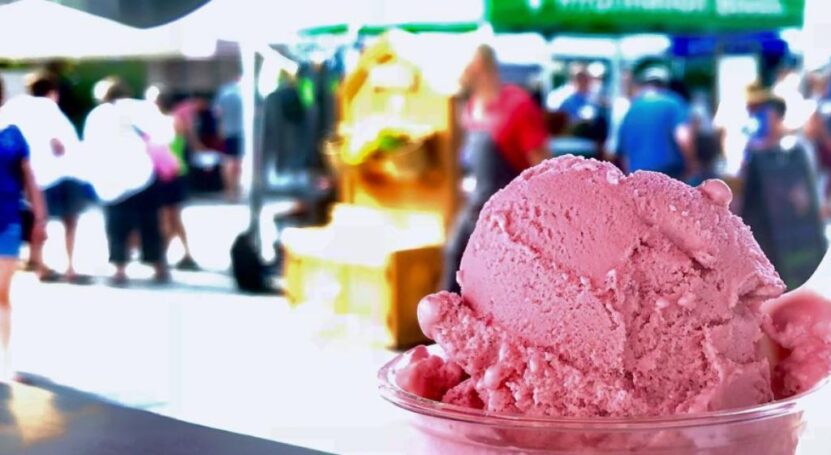 A small café with a rich history, Sonny's Ice Cream has been serving the residents of Minneapolis since 1945.
Crafted using an old Italian recipe, their ice creams, sorbets, and gelatos are made in-house from scratch. Fresh fruits, hand-picked herbs, and organic dairy give their offerings a distinct and authentic taste. 
While there, don't forget to try their affogato—a delightful blend of espresso poured over a scoop of their homemade vanilla ice cream.
7. Chill Ice Cream Studio – Duluth
View this post on Instagram

Nestled in the scenic town of Duluth, Chill Ice Cream Studio offers a picturesque view of Lake Superior as you indulge in its delicious offerings.
At Chill, it's all about personalization. You get to choose your base, flavors, mix-ins, and toppings, making every ice cream truly your own. 
Their dedication to quality ensures that every ingredient, from fruits to candies, is top-notch. It's a hands-on experience with a view that's hard to beat.
8. Can Can Wonderland – St. Paul

Next up, we have Can Can Wonderland, which offers more than just ice cream—it's an entire experience.
While their hand-crafted ice creams are creamy and delicious, what sets this place apart is its artsy mini-golf course. Flavors like Thai tea or caramelized pineapple are best enjoyed as you navigate through the whimsical 18-hole course. It's an outing that promises fun, art, and delectable ice cream all rolled into one.
9. Flapdoodles Homemade Ice Cream – Rochester
Прикажи ову објаву у апликацији Instagram

Flapdoodles is a true embodiment of the spirit of Rochester – innovative and community-oriented.
This shop is all about creativity, with flavors that are as fun to say as they are to eat! Think "Caramel Caribou" or "Monkey Junk." Each flavor is a masterful blend of textures and tastes, ensuring every scoop is a surprise. 
The playful ambiance, with colorful interiors and friendly staff, enhances the Flapdoodles experience. As an added bonus, they often organize community events, making it a popular spot for families to gather and indulge.
10. Two Scoops Ice Cream Parlor – Anoka
Located in the historic district of Anoka, the Halloween Capital of the World, Two Scoops Ice Cream Parlor offers a delightful blend of tradition and taste.
As you step into the parlor, you're transported to a bygone era with its classic checkered floors, neon lights, and retro seating. While the ambiance is nostalgic, the flavors are nothing short of contemporary. 
Apart from their signature ice creams, they also serve malts, shakes, and sundaes, that are the talk of the town. Their Pumpkin Pie ice cream, especially around the Halloween season, is a local favorite. When in Anoka, this parlor is the perfect spot to cool off and soak in some vintage vibes.
FAQs
How does Minnesota's climate influence ice cream consumption?
Minnesota's cold winters might seem like a deterrent for ice cream consumption, but locals often enjoy ice cream year-round. The contrast between cold weather and creamy ice cream is a cherished experience. Plus, the hot summers provide ample opportunity for residents and visitors to indulge in their favorite frozen treats.
Are there dairy-free options available at these Minnesota shops?
Yes, many of the ice cream shops in Minnesota, such as Milkjam Creamery, offer dairy-free or vegan options to cater to various dietary preferences and restrictions, ensuring everyone gets a taste of their delectable offerings.
What's the average price range for a scoop of ice cream in Minnesota?
Prices vary depending on the shop and location, but on average, you can expect to pay between $3 to $6 for a single scoop of hand-crafted ice cream in Minnesota. Some upscale places or specialty flavors might be priced slightly higher.
Do these ice cream parlors offer seasonal or limited-time flavors?
Absolutely! Many ice cream shops in Minnesota pride themselves on offering seasonal flavors that utilize fresh, local ingredients. This could range from pumpkin in the fall to fresh berry flavors in the summer.
Are there ice cream festivals or events in Minnesota?
Yes, Minnesota hosts various food festivals throughout the year, and many of them feature local ice cream vendors. These events are great opportunities to sample a variety of flavors and discover new local favorites.
How have Minnesota ice cream shops adapted to health and safety guidelines in recent times?
In response to health and safety concerns, many Minnesota ice cream shops have implemented measures like contactless payment, curbside pickup, limited indoor seating, and frequent sanitization. They prioritize the safety of their customers and staff while ensuring everyone can still enjoy their ice cream treats.
Final Words
Minnesota's ice cream scene is vibrant, diverse, and deeply rooted in its love for quality and innovation. Each parlor tells its own story, be it through its flavors, history, or the experiences it offers.
So, the next time you find yourself in the Gopher State, make sure to swing by these establishments and indulge in some of the finest ice creams the Midwest has to offer. We've also written about the best Minnesota towns for antique shopping, so make sure to check it out!